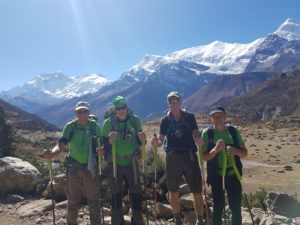 KraftWalking in Nepal.
On October 17 the "Green team" crossed one of the world's greatest mountain passes Thorang-La at 5416 metres above sea level. This was achieved after starting the trek in Besi Sahar (820 m) on October 8. The Kraftwalking pole received a lot of great attention along the trail Annapurna Circuit.
There were numerous questions, interesting encounters and overall really positive reactions. The finishing point of the trek, the city of Jomsom (2713 m), was reached on October 18 with connecting helicopter transfer on the 19th of October, passing the famous Annapurna massif.
own text
Kraftwalking establishing in Nepal.
Mr Prem Dangol, the owner of Discover Himalayan Treks, one of the largest travel agencies organizing trekking trips and more in Nepal, will be responsible for marketing the new KraftWalking / KraftTrekking pole in Nepal.
Mr Dangol was very impressed by the potential of the new multipole. The agency has a professional network reaching worldwide, including Europe, Asia, the US, Australia and beyond.
Kraftwalking Systems AB and Mr Dangol have set the goal to start a common production within a near future.                                         Mr Prem Dangol on the picture.
Link to Mr P Dangol
Swedish hockey team, Skellefteå AIK,  is practicing with Kraftstaven
Therefore Skellefteå AIK chose Kraftstaven!
We started using KraftWalking, also named KraftstavenTM , during the summer of 2017. From our first session, we were pleasantly surprised by its comfort and response during training. It is very light and has a fantastic pendulum motion. That, combined with its unique grip, provides the flexibility to fit the specific demands relevant to the focus of your training. These properties make KraftWalking the tool that directly contributed in improving our performance.
The physical demands on hockey players have substantially increased in recent years. Besides being explosive, strong and agile, the players have to work at a very high tempo during the entire game, but also maintain consistency of performance during the whole season. This demands that the players have a high anaerobic as well as aerobic capacity. Ice hockey, being a sport that involves the entire body simultaneously, requires that strength and conditioning sessions must be designed to provide a similar whole body workout.
By using KraftWalking as part of our endurance and conditioning training, we have seen a positive effect on the work capacity of the players compared to previous seasons.
Stefan Thomson
Strength and Conditioning Coach, Skellefteå AIK
Also personal trainer for Charlotte Kalla, elitskier from Sweden